---
Interview for Dance magazine .cz
" As artists, we must lead by example, give a hope, educate, help and listen"

Interview with Michal Krcmar Lead Principal dancer of FINNISH NATIONAL BALLET
" As artists, we must lead by example, give a hope, educate, help and listen"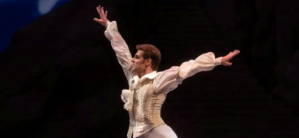 https://www.tanecnimagazin.cz/2022/04/21/rozhovor-s-prvnim-solistou-finskeho-narodniho-baletu-michalem-krcmarem/
(Link to original interview in Czech language for tanecni magazin.cz)
Before we start with the interview, I would like to thank your editors for the opportunity to express my thoughts on tyrannical situation in Ukraine. There is no easy way to find right words and describe what is happening. Suffering of the people, of such admirable Nation like Ukraine, is leaving us to watch this terror of injustice, death and bloodshed from our comfortable homes. The world is shocked once again... Are we really not able to learn from past, from our history and our mistakes? Unfortunately people still focus more on what divides us, than connects us. Many people feel hopeless and don't know what to do. But we might not be so powerless how it seems to be. We might be able to do at least something little to help. We might be able to do something small and if everyone does it, we could make a tremendous result and impact. I'm quite sure of it. Most of us have two options. Unlike people in Ukraine who are fighting for their lives, for their homes, for their freedom, safety of their families and safety of free Europe as well. They fight for us too. As I said, two options. Do nothing or do something. We can begin from small donations, send money or things for everyday use, send food, send food for animals like millions of people doing or helping in many different ways... Doesn't really matter what kind of help you chose. Important is to do something. For example, my brother Martin with friends went to Slovak-Ukrainian border to help people in need. For start I decided to do curtain calls with the flag of Ukraine and spread social media with anti-war posts... It feels like nothing, but if everyone in the world would do something small, together we might be closer to an end of this madness. As artists we are the voice of people, we are example, giving people hope, giving better feeling, educating, helping and listening them. We need to be united, strong and take a clear stand against cruelty, now more than ever. In my thoughts, I am with the unbreakable spirit of the Ukrainian people, but also with the brave individuals in Russia who are risking their lives, risking arresting by Police, demonstrating against oppression, occupation and killing in this senseless war.
Thank you.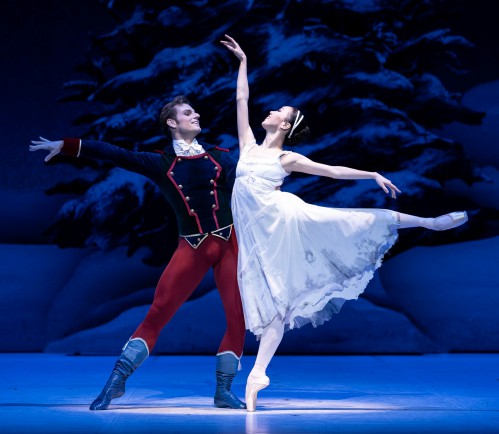 Zhiyao Chen and Michal Krcmar in Nutcracker by Wayne Eagling, Photo Roosa Oksaharju
The Lead Principal dancer of Finnish National ballet in Helsinki, winner of many ballet international competitions, awarded with the Edvard Fazer Prize given by Finnish Cultural Foundation. Michal's work was also awarded by the Italian cultural foundation Premio Capri Danza Internazional for international dance merit. Danced countless of wonderful main roles. He occasionally choreographs, teaches at ballet schools, and his home is where his wife and daughter are happy, and it doesn't matter where it is...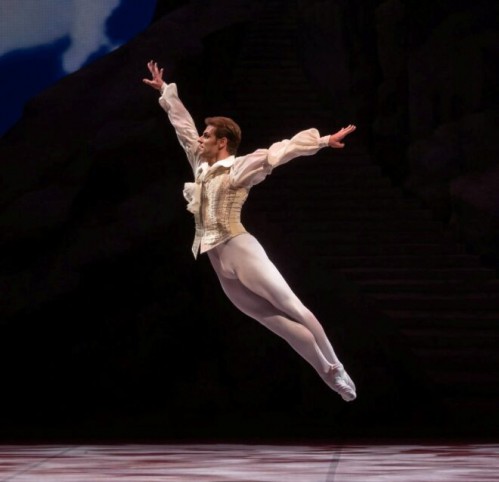 Michal Krcmar - Prince in Sleeping beauty by Javier Torres, Photo Roosa Oksaharju
As a child, you did a lot's of sports - hockey, football, cycling, and thanks to hockey, you got into dancing at the age of eight. As you admitted in one interview. Were you interested in ballet immediately? How did you start to study at The Dance conservatory of Prague since age of eleven?
It was mainly thanks to my first teacher Jana Kitnarová (Cizinska). At the Elementary School of Art in Prague where I started. She supported and praised me from the first moment. At that time, I knew absolutely nothing about dancing. I just repeated what she was showing me, and I watched older children how they dance and tried to copy them. She saw that everything what I did, was instinctive to me and with sense for music. After first lesson, she immediately mentioned that I should try selection exams to Dance Conservatory of the Capital City of Prague and was convinced that I had to study there. So it was thanks to my first ballet teacher, her positive attitude and encouragement. If my first ballet teacher was someone just screaming at me and pushing my confidence down, I certainly wouldn't show up for the next class. Unfortunately, we can say it openly. The world of ballet has been and is full of such negative people. Most of them are those who have failed in their own careers, so they take on their frustration with students and dancers. I was really lucky that during my first days of ballet, someone directed me positive, warm and above all, professional way which I follow until today when I teach. I believe that with mutual honesty, respect, appreciation and communication we can achieve anything. Everybody will feel much better and satisfied. I must mention that the sport's background helped me a lot with ballet steps. Both in classical technique and in modern. Maybe it sounds strange, but I often use my skating and hockey experience every day at work. It is important for children to try as many things as possible, hobbies, sports, etc... because later for an adult dancer, there are more opportunities to draw from. Even from the karate which I was practicing as a child, I still use something time to time.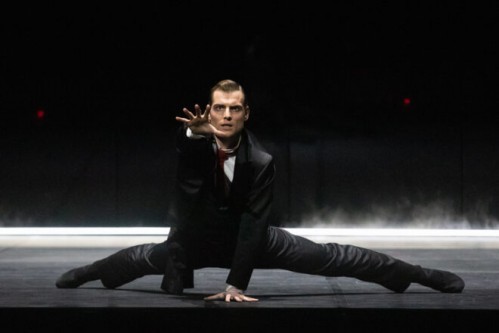 Michal Krcmar as Mr. Hyde in Dr. Jekyll & Mr. Hyde, Choreography by Val Caniparoli, Photo Mirka Kleemola
Already during the second year of conservatory you danced in the little waltz of the ballet Sleeping Beauty in the National Theater and in age of thirteen classical solo in The Nutcracker. During your studies you received several awards at international competitions. You started as a soloist in the Bohemia Ballet, you were in the ballet of the State Opera in Prague. In 2011 you became Principal dancer of the Finnish National Ballet in Helsinki. How did you get there? You said somewhere that you always wanted to dance abroad.
(Well, you see, I almost forgot about that waltz. That must be more than 20 years. At that time we danced side by side with my best friend Milan Frantisak, with whom I am in close contact to this day. I remember that Adam Zvonar was also there. Time really flies...)
It's true that I've always wanted to try to travel. Get to know what it's like to work abroad, maybe just for a few months or one season. It never occurred to me that I would not return to Prague. It's been a some years since I'm gone and I'm happy, even though I haven't returned. I love Prague, I love the State Opera and I hope to dance there again. Prague's stage really means a lot to me. This stage is the one where I became a dancer. Thanks to my contract in the Prague State Opera Ballet, I got to go to Helsinki. It was also thanks to Nikola Marova (with whom I danced Swan Lake at the State Opera) Ingrid Nemeckova and Jiri Nemecek, who gave me excellent references. I would have never gotten to Finland if the Artistic director of the Prague State opera ballet Hana Vlacilova would not help me. My teacher Yuri Slypyc, had not danced my spot during my absence in Prague. Thanks to them and hard work, in 2010 I was invited for production of the Nutcracker at the Finnish National ballet as a guest principal dancer. After two performances as prince, I've got the offer to work there permanently and after four months, I was promoted to principal dancer. At that time, my departure was relieved by the uncertainty of the political view on culture, the ignorance and lack of knowledge of the Ministry of the Culture. I often remember that. Thanks to this, we became friends with, Radim Dolansky and others, with whom we fought against the incompetent, but failed. But when I think about it... Huge scandals have broken out on people who have made those decisions about us, they have ended in shame and lawsuits, long time they are not on their positions anymore and we are still in our artistic places and doing what we love.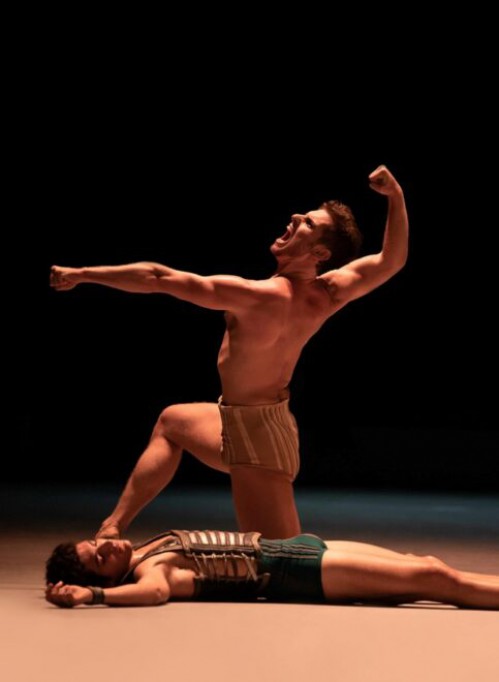 Michal Krcmar and Martin Nudo in Spartacus, Choreography by Lucas Jervies, Photo Roosa Oksaharju
Already in 2015 you became Etoile or the Star of the Finnish National Ballet and a year later you were awarded the Edvard Fazer Prize, which is awarded by the Finnish Cultural Foundation to most valuable dancer every 2 years. What does this mean to you?
It's not easy to get up every morning, walk into ballet studio, go through training, rehearse one main role after another, dance them so that you don't have to be ashamed of your work and yourself, all during the years that are literally running in front of your eyes. It is a great responsibility, self-discipline and constant humble work. It means a lot to me and I am very grateful for how much my efforts are appreciated. It is also thanks to atmosphere of the FNB, my fantastic colleagues and our mutual respect. In August 2021, I even flew to pick up an artistic prize at Capri for international dance merits, which was a big surprise to me. I feel like I don't even deserve such recognition. Thanks to my wife, I learned to speak Italian and I started guesting and teaching in Italy as well. I am very glad that my work was also awarded by the Italian cultural foundation "Premio Capri Danza Internazional".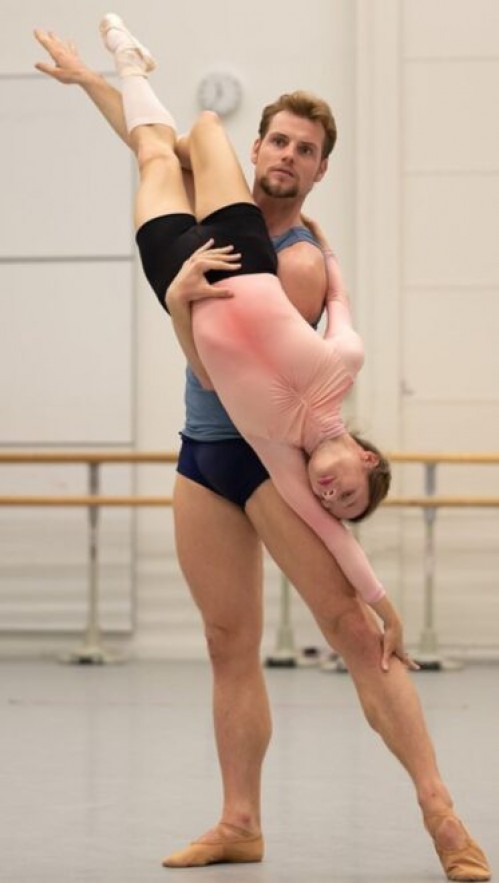 Maria Kochetkova and Michal Krcmar, Photo Roosa Oksaharju
You are also guesting on various stages at home (NdB) and abroad (Estonian National Ballet, Finnish National Opera, Teatro San Carlo), you have danced all over the world in Portugal, Italy, Germany, Japan, Russia, Austria, Korea, Honk Kong, Slovenia, France, Slovakia, Poland, Colombia, Cambodia, Hungary, China… And collaborated with a number of interesting people. Who do you like to remember? Is there anyone you would like to work with?
There are mamy great choreographers and teachers that I like to remember. There are also those I don't need to see in my life anymore, and for the most part, almost all of my friends and colleagues agree on such people. That's in almost every profession. The choreographers I like to remember are, for example: Val Caniparoli, John Neumeier, Alexei Ratmansky, Lucas Jervies… and I believe that perhaps they also enjoyed working with me, as I did with them, because the atmosphere with them was always very friendly and professional. I would love to meet, sit and talk with Mikhail Baryshnikov or Carlos Acosta someday.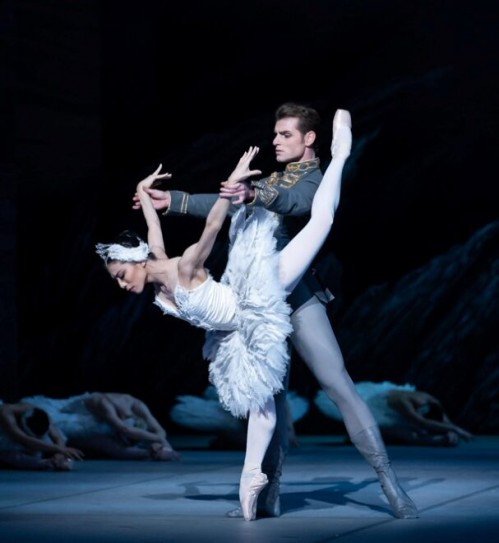 Hanako Matsune and Michal Krcmar in Swan lake by David McAllister, Photo Roosa Oksaharju
You have portrayed a numerous of roles - you were Prince Désiré and the Blue Bird in Sleeping Beauty, Prince Siegfried in Swan Lake, Solor in Bajadera, Basil in Don Quixote, Vronsky in Anna Karenina, Albret in Giselle, Prince in The Nutcracker, Oberon in Midsummer Night's Dream, Spartacus, Romeo, Onegin… What roles do you like to dance? Have you fulfilled your dance dreams or do you still have some unfulfilled?
Surely I have my favorite characters like Basilio, Solor, Spartacus, Onegin or Des Grieux in Manon. However, there are also ballets that I do with less enthusiasm. In fact, each role is interesting and gives an opportunity for my personal portrayal of a certain character. But after all those years I can answer your question: Yes, I have fulfilled my dreams and I am still fulfilling them, in some cases several times. Because I keep making new dreams, new goals and that is actually the key to success and happiness.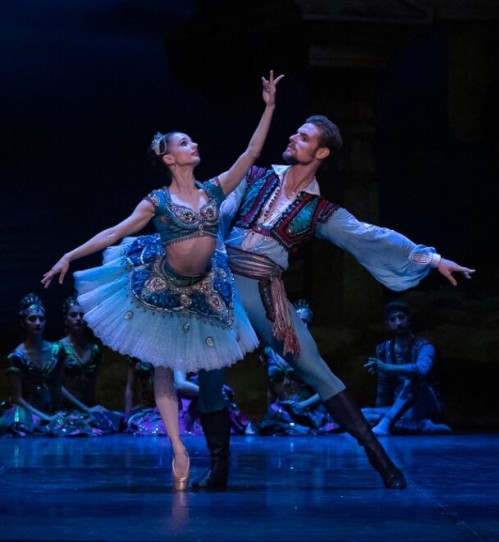 Maria Kochetkova and Michal Krcmar in Le Corsaire by Anna Marie Holmes, Photo Mirka Kleemola
At the beginning of March, you returned from a week-long stay in Dubai, where you danced at the Roberto Bolle and Friends gala in Abu Dhabi. What was it like to be part of such a big international dance project? What was the experience like for you?
Of course it was a great experience. I have been in contact with Roberto for some time. Unfortunately, the pandemic also played a large role. In the end, I'm extremely glad that it worked out for these shows. We had our first performance in Abu Dhabi at the magnificent "Emirates Palace" with amazing facilities and services. The second show, so as the first, was represented by the Italian Embassy at the "Italy Expo 2020". I had the honor to talk and dine with interesting people and ambassadors. The Czech Ambassador Mr. Slavik as well. We ended the whole short tour with the symbol of peace during the curtain call in Dubai Expo. We were in news and articles of many medias around the world. Not only because of the presence of Roberto and other great ballet artists, but because of unequivocal stand against oppression and killing. It was a very strong moment also thanks to the fact that the star "Staatsballett Berlin" Iana Salenko, who is originally from Kiev, was on the stage with us while her family is fighting for their lives in Kiev. She stood proudly on stage with the Ukrainian flag over her shoulders. Our colleague Alessandro Quarta played the Ukrainian National Anthem on his violin and we all held signs with the words PEACE over our heads. We all participating artists have unanimously chosen to show our support to the world. It's a short time that an artist has on stage during his performance, but it should be one hundred percent used to express his feelings. Therefore, the performance on 2nd of March 2022 was many times more important to me. I danced the Grand Pas from the ballet Don Quijote, which is one of my favorite. It was a wonderful show alongside top ballet stars. And most importantly, I was able to express my feelings, opinion and proudly fulfill my artistic duty. Everything was underlined by the reaction of the audience, which gave us its thanks during the long minutes of standing ovation.
(the whole performance from Dubai Expo 2020 can be watched on Youtube.com)
https://www.youtube.com/watch?v=7nguA5n5EWA&t=3385s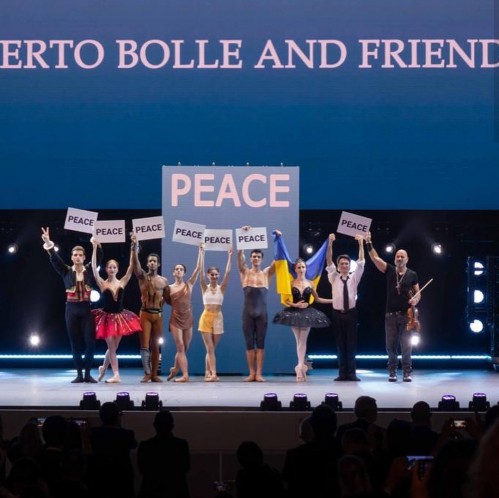 Roberto Bolle and Friends Dubai Expo
(Michal Krcmar, Marta Petkova, Osiel Gouneo, Bianca Teixeira, Maria Eichwald, Roberto Bolle, Iana Salenko, Dinu Tamazlacaru, Alessandro Quarta)
Occasionally you do choreographies, such as Blind Dreaming for Retirement Homes in Helsinki, and you said somewhere that you are also attracted to directing of productions. Do you have any role models in these fields?
There are countless choreographers who have influenced me and still inspire me. It helps me find my "style". It's a process that has no end and still evolves. I could talk about choreography for hours, but what I think is often forgotten nowadays and it is thoughtful directing. The direction really fascinates me and I get the most inspiration from cinema. Movies are my big hobby. Following the work of great directors from Milos Forman, through Sergio Leone, Quentin Tarantino, to Christopher Nolan or, in my opinion, director with a great future Bryce Dallas Howard. I have learned something from each generation of directors and films that helps me to portray roles in a certain way, according to the context and the situations. Thinking about them as a performer, but also as a director, gives me a much greater perspective, opportunities, space for improvisation and an overview of how to create a given character on stage.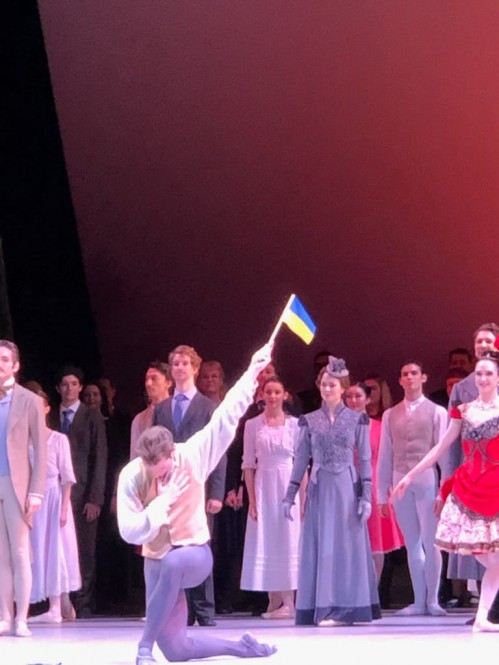 Michal Krcmar in Sibelius (curtain call of general rehearsal)
When you graduated from the dance conservatory, you dreamed of being a artistic director. It seems that you are not that eager anymore. How does it look today? What is still so charming on ballet for you?
I have found "a sense of freedom" in my profession that gives me the ability to do my job even better than in the past. And that is to free yourself from the feeling that I have to do ballet until my retirement. Realizing that if I would like to quit tomorrow it would not be "end" of the world, it would be the right decision that will make my family and me happier. I go to do my job because it's my passion, love and big hobby. When the day comes I won't feel that way, I just want to pick myself up and leave. I think it's better to quit in this moment. When I realized this, I discovered a certain "artistic freedom". In my profession, I only have to listen to one voice, instinct in my heart and not my artistic director or teacher. They should be here only to guide me, to support my best performance, to help create the best possible conditions and make artists feel free so they can do their best... It often occurs to me that a lot of ballet directors get their jobs today and they don't care that they are disrespected or rejected, in some cases absolute amateurs. Main thing for them is that "they are finally where they are". Yes, it is true that I used to dream of being the artistic director of a ballet company, but not at any cost. I see it differently today. If I am definitely not sure that I can do my best for a certain company and dancers, and if I am not wanted by the people around, then why push myself into such a position? You don't even know how many amazing potential bosses are in ballet circles and yet they don't want to do this job because they want their peace. The problem is always and will be the "EGO". I also struggled with my ego, but the older and more experienced I am, the more and more I find my peace and quiet, where the ego does not belong. The real artistic director is surrounded by people who are much better and wiser than he / she is. He creates a team of professionals, where he listens to the opinions of specialists and speaks last and after careful consideration he makes the decision which path to take. Sometimes I still think about being an artistic director in future, but for me, family and time whit them is the most important.
Roberto Bolle and Michal Krcmar Dubai Expo
You have lived in Finland for many years. Your wife Stafania Cardaci, who is also dancer of FNB, comes from Sicily and you have a daughter Sofia. What does home mean to you and where is yours?
My home is where my daughter and wife are happy. I believe they are happy when we are all together and it doesn't really matter where it is. I know that if I decide to change my job and join a company for example in Germany or England... They would not hesitate for a second and would follow me. So far we are happy and grateful In Finland. We will have another change of leadership, so we'll see. We live in our family this way: "Today we live fully and tomorrow we fight with what tomorrow brings".
How do you like to spend your free time?
During my free time, I often teach at ballet schools, and on longer holidays, I immediately head to the sea on the beach, where I can spend all the time. Sitting on the beach, sleeping on the beach, playing soccer, volleyball, watching sunsets and sunrises. In my opinion, the best time for a dancer is on the beach by the sea.
Thanks for the interview.
Veronika Pechová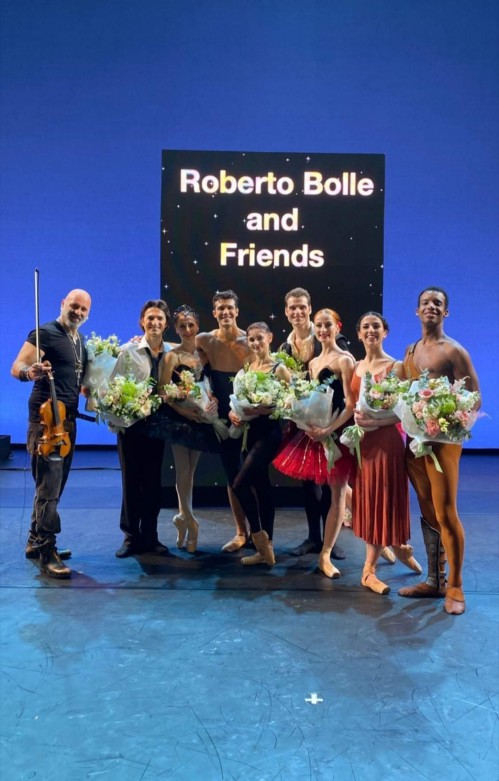 Roberto Bolle and Friends in Abu Dhabi - Emirates Palace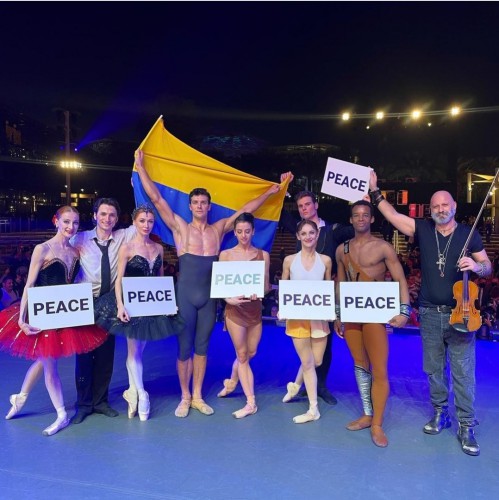 Roberto Bolle and Friends Dubai Expo
(Marta Petkova, Dinu Tamazlacaru, Iana Salenko, Roberto Bolle, Bianca Teixeira, Maria Eichwald, Michal Krcmar, Osiel Gouneo, Alessandro Quarta)
Comments
Overview of comments