---
The interview for Helsingin Sanomat (30th birthday)
Ballet Star Michal Krcmar would like to see less competition and more enthusiasm...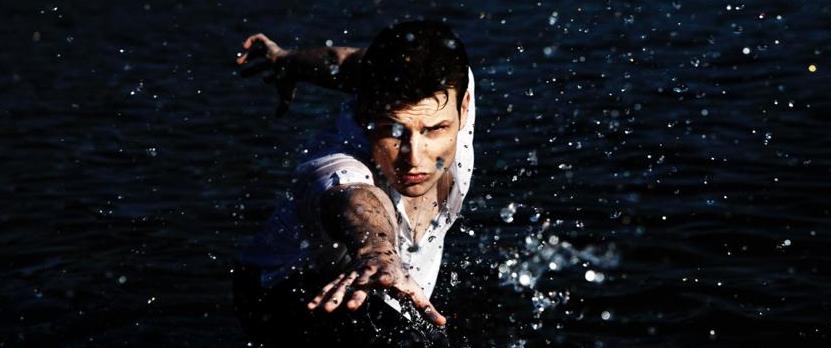 Author: Tuomo Yrttiaho
Published 13.6.2020 11:36 Helsingin Sanomat
Link to the Original article https://www.hs.fi/kulttuuri/art-2000006538629.html
From Finnish translated by Helena Lehečková
Ballet Star Michal Krcmar would like to see less competition and more enthusiasm...
When other children played football after school, Czech dancer Michal Krcmar was lying on the floor and his teacher was stretching his legs. Now he is the Star of the Finnish National ballet.
(continuing...)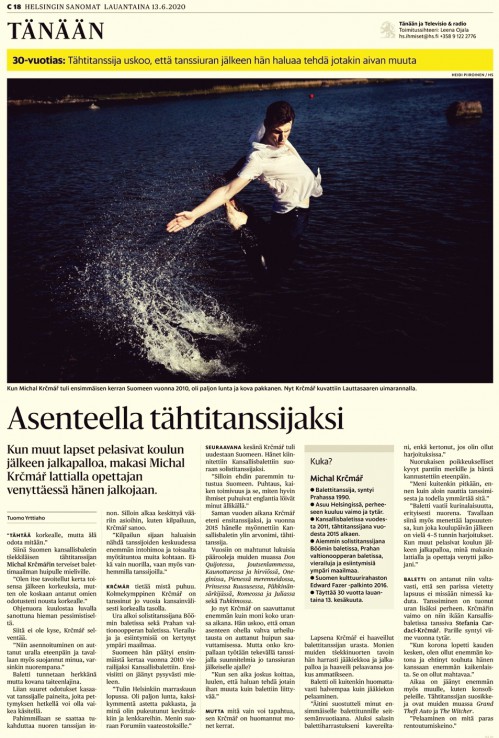 When Michal Krcmar came first time to Finland in 2010, there was a lot of snow, real Finnish freezing winter. Now we have photographed him on the beach in Lauttasaari. Photo: Heidi Piiroinen / HS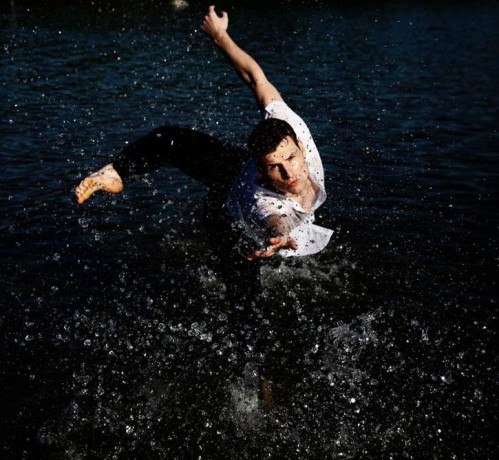 Michal Krcmar Photo: Heidi Piiroinen / HS
"Head for the top, but do not expect too much"
This is what the star of the Finnish National ballet tells to those who want to reach the top in the ballet world.
"I've always tried to reach the top myself, but I kept my own expectations low or I could say more realistic"
His advice seems, to be honest and a bit pessimistic.
"It is not like that," explains Krcmar
"This attitude helped me go up in my career and in it's own way protected me, especially when I was younger"
Ballet is known for being a sensitive but tough discipline. Too big expectations cause stress to dancer, which can be difficult to cope with in moments of disappointment. It can even burn the hope in young dancer and his passion for work. That is the moment when the dancer starts to focus on the wrong things, such as unhealthy competitiveness, says Krcmar.
"Instead of being too competitive, I would like to see more passion, eager to get better, compete with yourself, help other dancers and more and more compassion generally. Not only between the young ones but between every generations"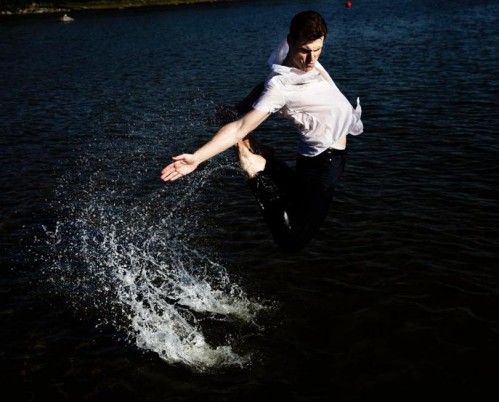 Michal Krcmar Photo: Heidi Piiroinen / HS
Krcmar knows what he's talking about. The thirty years old Leading Principal dancer has been performing at high international level for years. He began his career as a soloist in Bohemia Ballet and in the Prague State opera ballet. He has performed all over the world.
He first time came to Finland in 2010 as a guest Principal dancer of the National ballet. The first visit remained in his memory permanently.
"I arrived in Helsinki at the end of November. There was a lot of snow, twenty degrees below zero and I was wearing a spring jacket and sneakers. I went to Forum right away to buy something warmer to wear"
The following year, in the Summer, Krcmar came to Finland again and he was engaged to the Finnish National ballet as a Soloist dancer.
"That time I got to know Finland much better. I was amazed by the cleanliness, how everything works and how well people speak English."
Krcmar was promoted to Principal dancer the same year of his arrival (2011) and in 2015 was awarded with the highest title of the National ballet, a Star dancer. Over the years he has performed in leading roles in Don Quijote, Swan lake, Lady of Camellias, Beauty and Beast, Onegin, The Little Mermaid, Sleeping beauty, Alice in wonderland, The Nutcracker, Romeo and Juliet, Cinderella, Bayadera, Coppelia, Manon, Spartacus, The Snow Queen, Anna karenina, Sylvia, Midsummer night's dream, Le Corsaire, Giselle... Krcmar has already achieved more than many others during the entire career. He believes that his attitude to work and athletic background helped him to reach his position. Does the dancer who need to be in great physical condition for his work, have plans for the period after the end of the dance career?
"Once when the time will come, I might start to do something completely different, something that has nothing to do with ballet".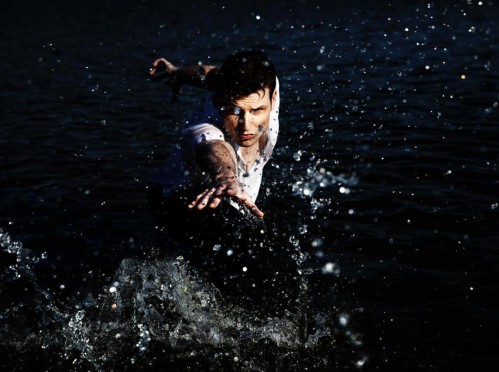 Michal Krcmar Photo: Heidi Piiroinen / HS
"I danced my first principal role 13 years ago in 2007. If all goes well, with luck and smart training, I can have another 13 years, maybe less maybe more, who knows.
But anything can happened, Krcmar has experienced this many times. As a child, he never dreamed of a dancer's career. Like many others Czech boys, he played football and hockey and dreamed of career of professional athlete. But ballet was in 90's much cheaper hobby.
"My mother persuaded me to try my first ballet class when I was eight. In the beginning I was hiding from my friends and did not tell them that I was doing ballet. I was really not proud of it."
Krcmar's exceptional abilities soon became apparent, and he received further support and guidance.
"But it took a long time when I finally started to understand and enjoy to do ballet. Ballet requires discipline, especially at young age. In a it's own way, a ballet student loses a bit of childhood because she or he has four to five hours of daily training. While the others are outside playing kid's games or going to cinema with friends, I was lying on the floor and teacher was stretching my legs."
"But ballet world has given me so much that I definitely not regret "sacrificing" my childhood. Ballet brough me beautiful family"
Krcmar's wife Stefania Cardaci-Krcmar is also a ballerina of the National ballet company. The couple had a daughter Sofia last year.
"When the covid-19 ended the season prematurely, I had so much time for my daughter it was fantastic, there was more time to relax, time for playing games"
Popular dance star enjoys playing games like Grand Theft Auto or The Witcher.
"Playing is wonderful way to relax, even hours before important premiere"
* Dancer, born in Prague 1990
*lives in Helsinki with wife and daughter
*In Finnish National ballet since 2011, Star (Etoile) since 2015
*before soloist in Bohemia Ballet, Prague State opera, guesting and performing around the world
*Edward Fazer prize - Finnish Cultural foundation 2016
* Saturday 13th June 2020 - 30 years